The former terminus of the east branch of the Rosedale Ironstone Railway.
The branch line was built to serve the mines on the east side of the dale. It was opened in August 1865 by the North Eastern Railway although it is likely construction may have begun by the mine owners.
The 4¾ mile route from the junction at Blakey Ridge involves a descent of over 100 metres around the head of the dale and is today a well graded cycle route.
Beyond the mines and the old kilns the route terminated at Low Baring or more commonly known as 'The Depots'.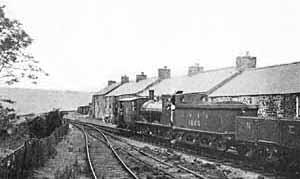 Here there was a goods shed, coal bunkers, and a row of cottages.
The goods shed and the coal bunkers are still standing; the shed can be seen in the distance in the feature image.
The cottages are now very ruinous, partially demolished, and  their footprint fenced off.
Also still standing, but out of site, is the Depot Cottage, which looks like is has recently changed hands and the whole area is being cleaned up.
At its peak the railway worked throughout the night. In the 1870s, it took away 1,000 to 1,500 tons per day, although this figure would have included ore from the west mines. Transported in were coal, foodstuffs, fertilisers, timber, and oil. The railway was also used to take some farm produce out of the dale.
The east mines closed in 1926 with the railway being dismantled by 1929.
Source: Hayes, R.H. & J.G. Rutter. "Rosedale Mines and Railway". Scarborough Archaeological and Historical Society. Research Report No. 9 Reprinted 1991.